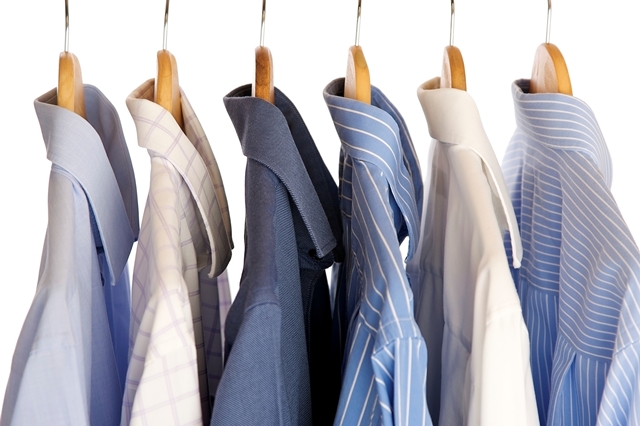 The custom dress shirt is a critical element to any man's wardrobe. It is extremely versatile because it can be dressed up or down for whatever occasion you find yourself attending. A custom shirt is often where you get to show your unique style and personality. Everything from the color, pattern, and fit projects an image of who you are and what you want to say to the world.
Take a look at this break down…which covers everything including fit, collar, cuffs, and front to back. Take a look at the shirts in your closet and keep these tips in mind next time you're shopping for new custom shirts.
Fit
Just like everything else that has been discussed in other newsletters, the fit of your shirt is literally the most important. Whether you prefer bold patterns or your classic white, without a proper fit your shirt will look sloppy and cheap regardless.
Below I will identify the traditional fit options. Consider your personal style and your lifestyle when deciding which fit is best for you. If you are a modern business man and dress shirts are part of your everyday wardrobe then consider a more modern fit for your custom shirts. If you just need a few dress shirts to get dressed up once and awhile then maybe a more classic look is best for you.
Once you have identified your preferred style then you must ensure that this style is fit to your body correctly. A master fitter from Bucco Couture will assist you in finding the perfect fit and then make it work for your body.
Classic Fit
Obviously the most traditional fit of the dress shirt. It has a boxy shape that is not constricting. It features two vents in the back, and is best for more conservative dressers or someone who just needs a few shirts to fall back on.
Modern/ Contemporary Fit
The modern fit is slightly snugger to the body. It has a slightly tapered waist, which gives it an overall more updated feel. Despite its closer cut it still allows the wearer comfortable mobility. Younger men and those looking for a more updated feel will find themselves attracted to this fit.
Slim Fit
The slim fit, as its name suggests, is cut much closer to the body. It also is best worn by slimmer men because its cut is not flattering on everyone. Slim fit shirts tend to be made in more causal fabric so they can be dressed down. The beauty of a custom shirt though is that if you want it for a more formal setting than simply select a more suitable fabric.
Collars
Collars come in so many varieties that it can seem impossible to pick one. I will highlight the important aspects of the classic collar styles, but this is more of a jumping off point then a strict set of rules. Many brands have custom collars to give their shirts a unique flare, and as long as it is something you like and feel comfortable with then don't be afraid to take risks.
Spread collar: Seen on oxfords. Can be worn with or without tie. 
Button-down collar: Seen on oxfords. Can be worn with or without tie
Small collar: Modern option gaining popularity. Cannot be worn with tie.
Evening collar: Paired with tux. Sometimes detachable. Only for formal occasions.
Cuffs
Like collars, cuffs also come in many shapes and styles. I will distinguish the two main kind for you, and it is up to you and your tailor where you want to go with them. Just keep in mind that large cuffs are outdated, look for smaller cuffs instead.
French cuffs are considered a more formal and contemporary way to go. They are usually paired with cuff links, and are beginning to make an appearance on less formal shirts. This style is popular because of the option to wear cuff links.
The second option is the Barrel cuff. It comes in a wide variety of shapes and is best for the everyday man. It can be dressed up or down and is much more versatile. Discuss your needs and preferences with a Bucco master fitter and they can help you select the right shape and number of buttons for you.
Conclusion    The custom shirt is your opportunity to project your own personal message to the world. Don't be afraid to take risk when making your selection. As discussed above, the dress shirt is a lot more complex then it may appear. By working with a Master Fitter from Bucco we can help you create the right shirt for you